2017 Missions Conference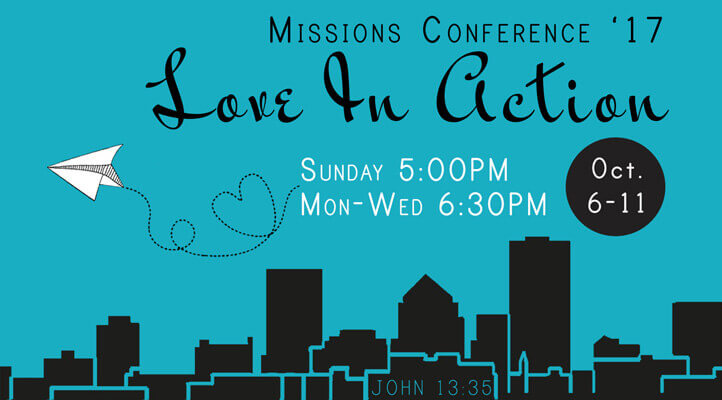 Missionary Guests
Ian & Amanda Richards
Dr. Jacob & Prashanthi Gaddala
Max & Priscilla Pera
Gary & Nancy Newhart
Ed & Sandy Zogg
Theme
The theme for 2017 is "Love In Action" and our key Bible passage is John 13:35: By this all will know that you are My disciples, if you have love for one another.
Agenda
More information about the 2017 Missions Conference will be announced as the date draws closer.
Friday, October 6
Man Up event
6:00pm
Saturday, October 7
Ladies Breakfast
9:00am
Sunday, October 8
9:30am, Opening Flag Ceremony followed by a testimony from Jacob Gaddala and message from Max Pera
10:45am, Coffee break
11:00am, Special praise and worship music followed by a testimony from Ian Richards and message from Jacob Gaddala

5:00pm, Testimony from Max Pera and message from Ian Richards, followed by International dinner fellowship, featuring different foods from around the globe!
Monday, October 9
6:30pm, worship service featuring testimony from Gary Newhart, and special presentation "Our Story for His Glory" (Gaddala / Richards / Zogg), followed by dessert fellowship
Tuesday, October 10
5:30pm, pizza dinner
6:30pm, teen night worship service, featuring message by Ian Richards
Wednesday, October 11
6:30pm, worship service featuring children's choir, testimony from Ed Zogg, and message by Jacob Gaddala, followed by cookie fellowship
Questions?
If you have questions about the 2016 Missions Conference at Open Door, please contact Paul St. Denis, Pastor of Adult Ministry.