Welcome to Open Door! We're glad you're here.
We know you may have a lot of questions when visiting a new church. Our goal is for you to feel welcome and comfortable and at ease when you join us at Open Door. Below you will find more information about Open Door and what you can expect on your first visit.
Sundays
Worship Services: 9:30 AM & 11:00 AM
kidzcare/classes: 9:30 AM & 11:00 AM
kidzchurch (1st-5th): 11:00 AM
Teen Worship Service: 11:00 AM
Wednesdays
Re-Fuel Services: 12:00 PM & 6:30 PM
kidzcare/classes: 6:30 PM
kidzclub (Pre-K-5th): 6:30 PM
Teen Re-Fuel: 6:30 PM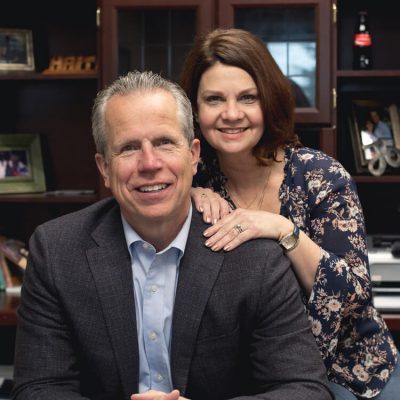 Meet our Pastor
Our Senior Pastor, Bill Finnerty, would love to meet you!
Between services on Sunday mornings, Pastor Bill and his wife Diane will be near the front entrance next to the Welcome Desk.
Stop by any time as they would love to welcome you to our church family.
Discovering Our Church Family
If you have been visiting Open Door and would like to know more about connecting at the church or making Open Door your church home, we encourage you to take our Discovering Our Church Family course.
In this informative class, you will discover the beliefs, strategies, structure, and vision that serve as the foundation of Open Door Baptist Church.
Classes will be scheduled individually.
Please contact the church office or email us for more information.
Frequently Asked Questions
WHAT DOES OPEN DOOR HAVE FOR MY FAMILY?
There's something for every member of the family at Open Door. From babies to senior adults, you'll find life groups, special events, and more designed just for you. At Open Door, you can get involved in music, recreation, community outreach, missions and evangelism, and more. Plus you'll find special events throughout the year including our Missions Conference, Men's and Women's Ministry events, kidzcamp for children, the Christmas presentations, and more designed to help you grow spiritually, fellowship with friends, and reach out to others.
WHAT WILL MY CHILDREN DO WHILE I'M IN SERVICE?
Children are important to Open Door! While you attend the Worship Service, the kids, based on their ages, will be in special programs designed just for them with caring teachers who want to show them Jesus' love. Babies through Kindergarten will stay in their classes both hours. For first through fifth grade, one hour they are in their small group classroom, and the other hour, they attend our kidzchurch.
We have provided a kiosk for registering and checking in your young children before leaving them in their age-appropriate class. You'll want to provide ample time to get your children settled prior to the start of each service.
WHAT ABOUT MY TEENS?
All teens are encouraged to join our teen service and groups. On Sundays, we have a Teen Worship Service at 11:00 AM. We also have Wednesday night Life Groups at 6:30 PM.
WHAT SHOULD I WEAR?
You are welcome at Open Door just as you are. We have members in coat and tie, members in t-shirt and jeans, and everywhere in between. We meet to worship the Lord and fellowship with other believers. We believe that it's the attitude of your heart that matters to God, rather than your physical appearance.
WHAT TIME DO I NEED TO ARRIVE?
We recommend that you arrive at least 15 minutes prior to the beginning of an event.
WHERE SHOULD I PARK?
Upon entering the parking lot, look for signs for "Visitor Parking" where special, up-close parking is available for you.
I'M IN A WHEELCHAIR. WHERE DO I GO?
Handicap parking is available and we have a wheelchair lift available for accessing the lower level.
When you arrive, let the greeter know your specific need.
WHERE SHOULD I SIT?
You can sit wherever you feel comfortable in our Worship Center. If you have difficulty locating a seat, our ushers are available to assist you.
HOW LONG IS THE SERVICE?
Our services are approximately one hour and fifteen minutes.
WHAT STYLE OF MUSIC IS USED IN WORSHIP?
Open Door's music is a multi-generational and multi-cultural expanded worship personality. We have a choir and orchestra, a praise team, and band-driven worship, all of which you can experience at our 9:30 and 11:00 AM services.
WHICH VERSION OF THE BIBLE DO YOU USE?
Our Pastor preaches from the King James Version (KJV). We accept all versions of the Bible that hold true to God's Word. There are copies of the KJV Bibles in our pew racks.
WHAT AMENITIES DO YOU PROVIDE?
We provide free Wi-Fi for Bible apps and church-related activities. Connection information is listed in the church bulletin.
DO YOU PROVIDE TRANSPORTATION?
We offer transportation to Sunday morning services for members who live within five miles.
For more information, or to schedule pickup, please call 585-889-3220 and leave a message in the 'rides' mailbox.
I'M DEAF/HARD OF HEARING – WHAT DO YOU HAVE FOR ME?
Interpreting is available at our 11:00 AM Service. When you arrive, simply let the greeter know your specific needs.
We also have a deaf ministry called Silent Rock, which meets at various times throughout the year.
HOW DO I GET INVOLVED IN A LIFE GROUP?
Life Groups are a key aspect of our church community. Most meet weekly or bi-weekly in the home of a group member (usually the leader's home).
For help finding a group that fits you just right, try our online Group finder or visit our Welcome Center.
HOW CAN I SERVE OTHERS?
At Open Door, you'll find a service opportunity that fits your unique talents and abilities. You can serve the community by working on a team that does community outreach; you can get involved in the choir or orchestra; you can welcome guests who come to our campus; you can serve on an evangelism team or missions project; and so much more.
Plan Your Visit
We would love to make your first visit with us extra special. From the first time you step foot onto our campus, you will feel like part of our family.
Please complete this form and one of our Connections Team members will be in touch to help you plan your first Sunday at Open Door!